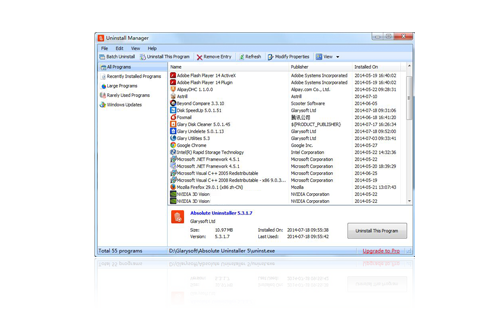 An program that offers the best solution to
uninstall programs completely with high speed and efficiency.
Absolute Uninstaller
Autofix invalid program entries.

List installed programs with appropriate icons.

Simple and user-friendly interface.

Batch uninstall programs.

Backup/restore uninstall information.
Fast and User-Friendly
Absolute Uninstaller starts up faster than Add/Remove program with all appropriate icons of the application loaded and marks recently installed program. so that you can easily find out the application you want to uninstall. You may also look up the application you want through a handy search function.
Variety of Functions
You can uninstall multiple programs at once, searching for apps, remove entries or restore them, change program properties, check program support information, view command line, fix invalid entries automatically, backup and restore uninstall info, and export the program list.
Completely Uninstall
Absolute Uninstaller is a complete program uninstaller that helps you remove programs thoroughly without leaving any invalid remnant to burden your system gradually.
Media Review
Absolute Uninstaller is an intuitive program that promises to remove software components that the Windows Add or Remove Programs function cannot. The program's ease of use and effectiveness make it a great choice for this task.
CNET staff
Customer Review
"I was impressed that there were no additional programs packaged with Absolute Uninstaller that you need to worry about accidentally installing during the setup."
Aaron Couch
100% Clean
We've analyzed the latest version of Absolute Uninstaller with 30 antivirus engines and found that it's virus-free.