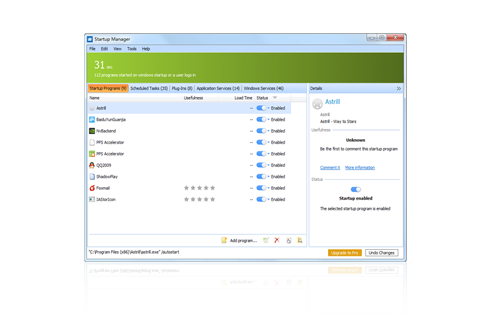 Free startup manager to disable or delay auto-start programs
to speed up system boot at most.
Quick Startup
Browse all startup entries in an elegant list view.

Security risk rating for startup entries.

Get detailed information about individual startup entries.

Add, edit or delete startup entries.

Comment on program entries.
Well-designed
This program is a centralized and well-designed application enabling the user to modify, delete or add applications to the list in order to adjust it to their needs and ensure the system starts quickly and without problems.
Easy to Use
The application window is so easy to use that there is no point in describing it. Suffice to say that right click offers almost all the options you need. The information about the selected entry is displayed at the bottom of the application window.
Delay startup
Quick Startup lists every program that starts running when we turn our computer on. With each, we were given a simple one-click option for delaying it.
Media Review
Quick Startup is a freeware program. With simple controls and immediate results, we highly recommend this program.
CNET staff

Customer Review
"Using the application is so easy that it hardly needs any description, which is good because the accompanying help documentation is poor. You will not even need to take any initial action as the Quick Startup will automatically refresh the Startup list during program start. Right clicking the desired entry will let you perform any of the possible actions: deleting, enabling/disabling,starting or editing the select item."
Pedro Castro
Senior editor
100% Clean
This software was checked for viruses and was found to be clean.
software.informer.com