The Glary Utilities Pro has more features than the free version, such as an Automatic download update, to save you much time downloading and keep your Glary Utilities updated with the newest version. Deep scan and fix, check your computer for any possible threat, vulnerabilities, or junk files, and fixes/cleans it up to improve speed and performance. Auto-care is in the background. Regularly and automatically scans your computer to keep it always in check.
Why didn't I receive the license code?
The reasons might be:
1) Due to your email settings, the email containing the license code may go to your Spam folder directly. Please check it there.
2) You provided an invalid email address when you ordered the software.
3) Your email service provider rejects emails from unknown senders.
If you still cannot find the email, please reach us via [email protected], and we will help you soon.

Lost your license?
To retrieve the lost license code, please email [email protected], including your full name, email address, and Order ID(if known). We are happy to provide you with your registration code again.
Note: The email address must be the same as the one you used when ordering the product.
How to register to get the PRO version
You need to register the program with the license code you purchased manually. The license code can be found in the email you received after you purchased the program.
After you use the license code to activate the trial version successfully, you can enjoy Glary Utilities Pro.

When you run Glary Utilities after installing it, click the "Manage License" button under the "Overview" tab.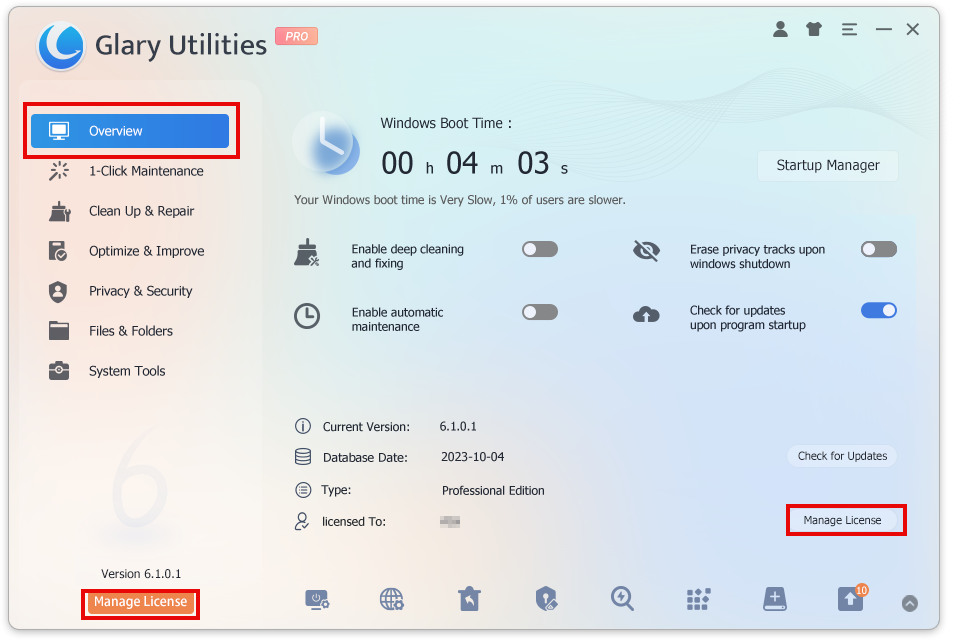 It will pop up a box for you. Please click "Refresh".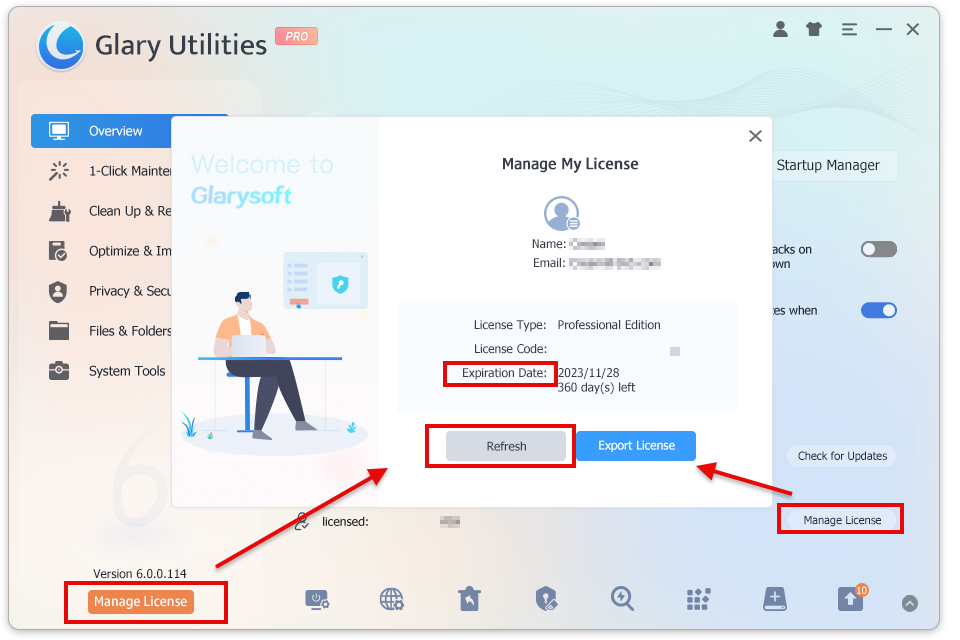 Enter your name and the registration code, and finally, click "Activate Now."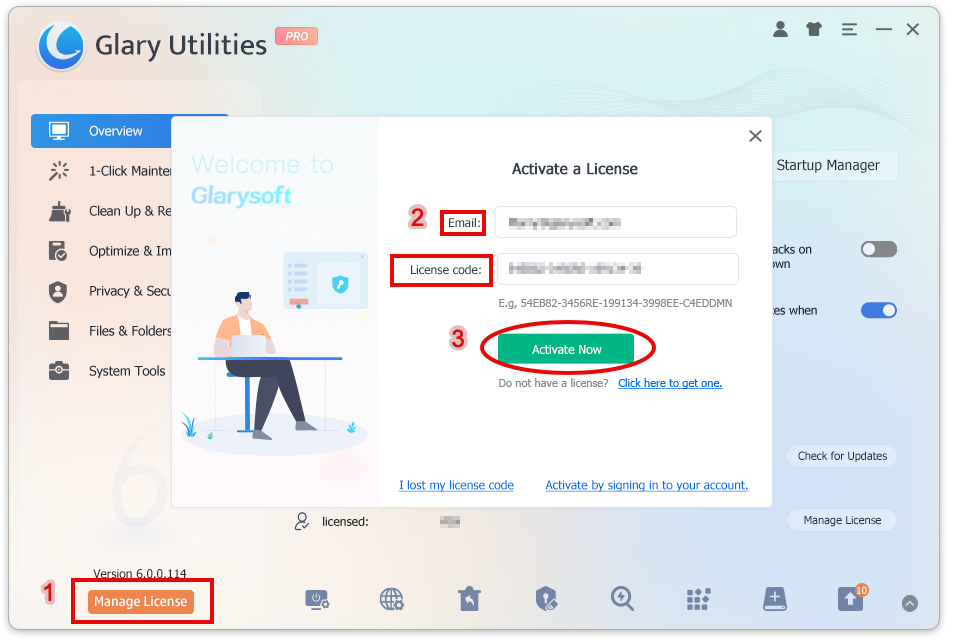 If you successfully register with your license code, the trial version will turn into the pro version.

How to renew my license code
We always provide renewal discounts to our customers. Customers can renew their license code here. By renewing, you will get a new subscription and a new ONE-YEAR license code. You need to register Glary Utilities with your new license code manually.
When will you receive the license code information after purchasing Glary Utilities Pro?
When purchasing by credit card, you will immediately receive your registration and license code information via email. If the product is purchased using one of our alternative billing methods, you will receive your registration and license code information once the payment has been received and cleared.
Please note some small delays may occur in verifying your credit card details under some circumstances.
How long is the valid service time of the license code?
It is a 1-year subscription for up to 3 PCs. The valid service time of the license code is ONE YEAR, and you can use one license code on your 3 PCs. During the one year, you can update any new version free of charge.
What is the refund policy?
We provide functional trial versions of all our software so our customers can fully evaluate and try the software before making a purchase.
In addition, we also offer a 90-day money-back guarantee.
How to uninstall Glary Utilities
To uninstall Glary Utilities from your computer:
In the Start menu, click Control Panel (you may need to click Settings first).
Click Uninstall a program, Programs, and Features, or Add or Remove Programs.
In the list of programs, select Glary Utilities, and then click Uninstall/Change, or Uninstall.
Follow the displayed instructions to complete the uninstallation.
FAQs and Support
Please visit http://www.glarysoft.com/kb/faqs/ for frequently asked questions and more help.
Give us online feedback at Online Feedback.